Holoware Introduces Advanced Solutions for the 4th Gen Intel® Xeon® Platform, Ensuring Optimum Performance for Cutting-Edge Technology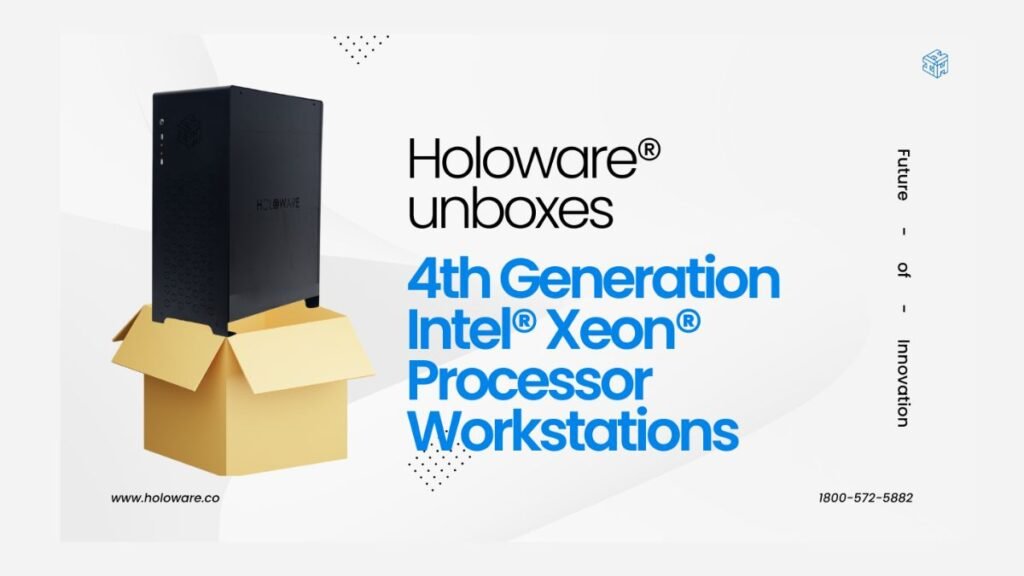 Holoware Introduces Advanced Solutions for the 4th Gen Intel® Xeon® Platform
New Delhi (India), May 26: Holoware, a renowned provider of high-performance workstations, is thrilled to announce its latest offering that leverages the power of the 4th Gen Intel Xeon processors. This groundbreaking development allows Holoware to deliver unparalleled performance and reliability to its esteemed customers. In addition, the newly introduced workstations are meticulously designed to meet the demands of the most challenging AI and deep learning applications, solidifying Holoware's commitment to providing state-of-the-art solutions.
Holoware offers a range of options to cater to every customer's unique requirements. Whether you prefer ready-to-go, pre-configured systems or a custom-built workstation tailored to your specifications, Holoware has the expertise and flexibility to meet your needs.
The 4th Gen Intel Xeon processors provide a host of benefits, positioning Holoware's workstations at the forefront of technological innovation. The key advantages of the 4th Gen Intel Xeon platform for workstations are as follows:
Up to 40% More Performance: With a remarkable performance boost compared to previous generations, Holoware's workstations offer unparalleled processing power. This enables users to tackle complex computational tasks and handle resource-intensive applications with ease and efficiency.
Scalability for Diverse Applications: The 4th Gen Intel Xeon processors provide exceptional scalability, allowing Holoware's workstations to adapt to various applications. Whether you're engaged in AI research, deep learning, data analytics, or virtualization, Holoware's solutions can be fine-tuned to match user needs.
Energy Efficiency and Cost Reduction: Holoware understands the importance of cost savings for its customers. The 4th Gen Intel Xeon processors are designed with energy efficiency in mind, optimizing power consumption without compromising performance. This enables organizations to achieve greater computational power while keeping operational costs in check.
"We are excited to introduce our latest range of workstations leveraging the exceptional capabilities of the 4th Gen Intel Xeon processors," said Ragav, CEO at Holoware. "These cutting-edge solutions empower our customers with unparalleled performance, scalability, and energy efficiency. Whether it's AI, deep learning, or any other compute-intensive task, our workstations are built to deliver optimal results."
Ragav added, "Holoware is excited to announce its upcoming lineup of products that will cater to a wide range of user preferences. Among the highly anticipated releases are the all-in-one computers, designed to provide a seamless and compact solution for users seeking powerful performance and space-saving convenience. Additionally, Holoware will introduce a diverse range of laptops, including budget-friendly options and high-end series, ensuring that customers can find the perfect fit for their computing needs. Whether you require a portable workstation on a tight budget or a top-of-the-line laptop with cutting-edge features, Holoware's upcoming products are poised to deliver exceptional performance and user experience."
Holoware's commitment to staying ahead of the technology curve has led to its strategic partnership with Intel, ensuring customers can rely on their workstations to excel in their most demanding projects. In addition, Holoware's extensive experience in the industry, combined with the power of the 4th Gen Intel Xeon processors, guarantees an unparalleled user experience.
To learn more about Holoware's 4th Gen Intel Xeon-powered workstations and to explore the available options, please visit http://www.holoware.co/or contact sales1@holoware.co or 18005725882.
If you have any objection to this press release content, kindly contact pr.error.rectification[at]gmail.com to notify us. We will respond and rectify the situation in the next 24 hours.