The Rise of Refurbished Smartphones : A Boon for Budget at MobileGoo.shop -Conscious Buyers
mobile goo
New Delhi (India), June 21: Refurbished mobile phones are pre-owned devices that have undergone comprehensive testing, repairs, and restoration to ensure they function like new ones. These phones offer a cost-effective alternative for customers who want the latest technology without paying the full price. By choosing refurbished mobile phones, customers can save money while still enjoying the benefits of a high-quality device.
MobileGoo.shop is revolutionizing the way people buy refurbished phones with their user-friendly interface and comprehensive solution. Through my interview with MobileGoo.shop, I discovered valuable insights about their commitment to providing top-notch refurbished phones to customers.
MobileGoo.shop's Budget-Friendly Solution for Quality iPhones!
One of the key advantages that I noticed and also highlighted by MobileGoo.shop is the cost savings it offers, as they state. They claim that purchasing an Refurbished iPhone from their platform allows individuals to enjoy significant discounts compared to buying a brand-new iPhone. MobileGoo.shop makes it an attractive option for budget-conscious individuals or those in need of a temporary replacement. The platform further emphasizes that they ensure transparent and competitive pricing, providing customers with the best value for their money.
How MobileGoo.shop Stands Out from Other Platforms
MobileGoo.shop stands out from other platforms by providing exceptional customer support and offering refurbished phones. Unlike many competitors, MobileGoo.shop ensures a seamless buying experience with prompt assistance and guidance Throughout the process.
Customers can enjoy the peace of mind that comes with the following advantages:
7 days Replacement Policy: Customers have the option to replace the product within 7 days of purchase if they are not satisfied.
Up to 12 Months Warranty: MobileGoo.shop provides a warranty period of up to 12 months on their refurbished phones, giving customers long-term protection.
Available on EMI: To make the purchase more affordable, MobileGoo.shop offers EMI options, allowing customers to pay in convenient installments.
55+ Quality Checks: Each refurbished phone undergoes thorough quality checks to ensure it meets the highest standards of performance and reliability.
Free and Fast Delivery: MobileGoo.shop offers free and speedy delivery, ensuring customers receive their orders promptly.
Smartphones Available in Various Conditions: MobileGoo.shop provides smartphones in different conditions such as unboxed, like-new, superb, and good condition, giving customers flexibility in choosing the phone that suits their requirements.
With its attractive pricing, a wide range of options, and commitment to customer satisfaction, MobileGoo.shop is the go-to destination for those seeking reliable, affordable, and high-quality refurbished phones.
Experience Seamless Buying with MobileGoo.shop: Easy Navigation, Detailed Descriptions, Secure Payments, and Prompt Shipping!
In my opinion, MobileGoo.shop truly understands the importance of customer convenience. They offer secure payment options and ensure prompt shipping services, which make the entire buying process hassle-free. According to their statement, customers have the freedom to choose from various payment methods, allowing for a smooth and convenient transaction. What impresses me the most is their commitment to reliable and efficient shipping services. They strive to deliver purchased phones in a timely manner, prioritizing customer satisfaction. This attention to detail and dedication to providing a seamless experience sets MobileGoo.shop apart from other online platforms.
Unleash a World of Choice, Quality, and Confidence!
Wide Variety of Old Phones: Find a diverse range of old phones on MobileGoo.shop, catering to different preferences and budgets.
Something for Everyone: MobileGoo.shop offers options for both the latest smartphone models and more affordable alternatives.
Reliable and Functional Phones: Each device in MobileGoo.shop undergoes meticulous inspection and certification for reliability and functionality.
Cost Savings: Enjoy significant savings by purchasing pre-owned devices from MobileGoo.shop instead of investing in new phones.
Transparent and Competitive Pricing: MobileGoo.shop ensures transparent and competitive pricing, delivering the best value for your money.
Customer Satisfaction: MobileGoo.shop prioritizes customer satisfaction by offering a wide variety of old phones, reliable devices, cost savings, and competitive pricing.
Discover Pristine Deals: MobileGoo.shop Introduces Unboxed Phones, Delivering Quality at Discounted Prices!
MobileGoo.shop has recently introduced unboxed phones for sale on their platform.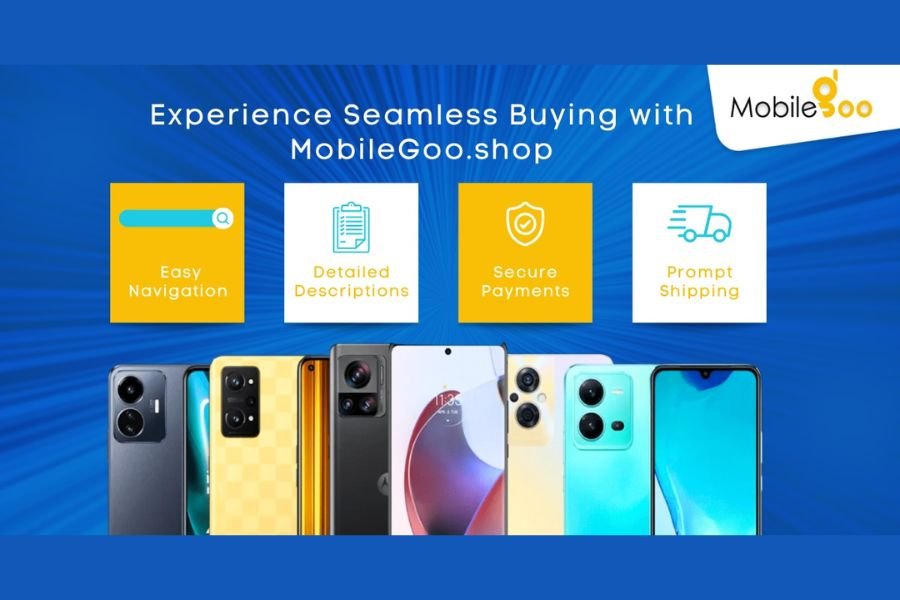 Unboxed phones are devices that have been minimally used, ensuring they remain in pristine, brand-new condition. What sets MobileGoo.shop apart is its commitment to providing customers with a comprehensive package when purchasing an unboxed phone.
Here are the key advantages of buying an unboxed phone from MobileGoo.shop:
Original Billing: When purchasing an unboxed phone from MobileGoo.shop, you'll receive the original billing, ensuring transparency and authenticity.
Brand Warranty: MobileGoo.shop offers unboxed phones with the original brand warranty intact, providing you with peace of mind and protection against defects or issues.
Original Accessories: When you buy an unboxed phone from MobileGoo.shop, you'll receive all the original accessories that come with a new phone, ensuring a convenient user experience.
Discounted Pristine Devices: MobileGoo.shop offers high-quality unboxed phones at discounted prices, allowing you to enjoy the latest technology without breaking the bank.
Quality Assurance: MobileGoo.shop ensures all unboxed phones meet the highest standards through thorough inspections and testing, guaranteeing a reliable and fully functional device.
Diverse Selection: MobileGoo.shop offers a wide range of unboxed phones, including the latest iPhone models, flagship Android devices, and budget-friendly smartphones, catering to diverse preferences and needs.
Discover an extensive selection of refurbished mobile phones by visiting mobilegoo.shop. Immerse yourself in a wide range of options while staying up-to-date with the latest news and offers on their Facebook and Instagram pages. Don't forget, if you're looking to purchase a refurbished or new phone and want to sell your old one, head over to mobilegoo.in. Unlock the best prices for your old phone at mobilegoo.in and embrace the opportunity to save money while enjoying high-quality devices with MobileGoo.shop!
Website:- https://mobilegoo.shop/
Instagram:- https://www.instagram.com/mobilegoo_
Facebook:- https://www.facebook.com/mobilegoo
If you have any objection to this press release content, kindly contact pr.error.rectification[at]gmail.com to notify us. We will respond and rectify the situation in the next 24 hours.