Embark on Unforgettable Adventures with CHIKY TRAVELS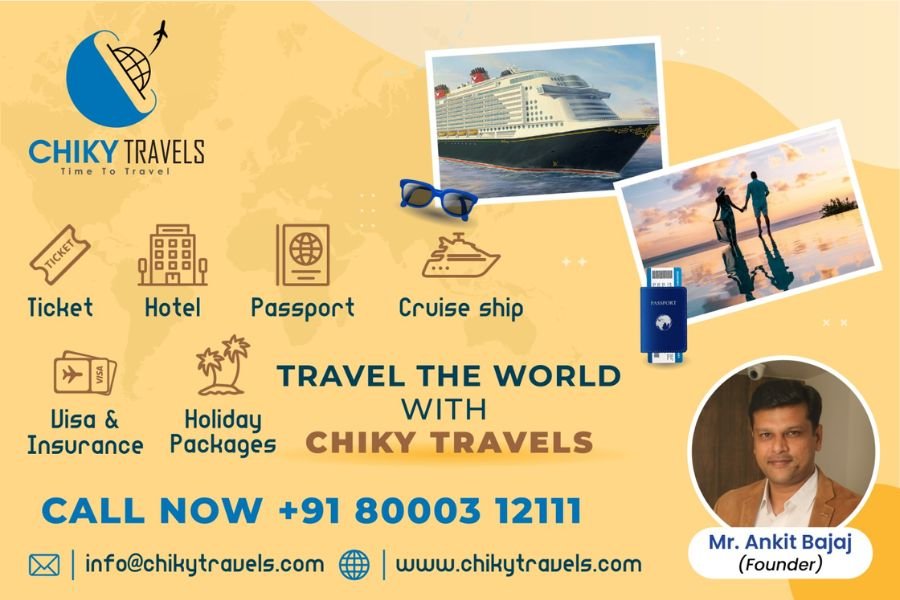 Chiky Travels
Discover the World with Expert Guidance and Unmatched Experiences
Ahmedabad (Gujarat) [India], June 29: Travel enthusiasts and wanderlust seekers rejoice! Chiky Travels, a leading travel agency renowned for crafting extraordinary journeys, is here to turn your dream vacations into reality. Whether you're a thrill-seeker in search of adrenaline-pumping adventures, a culture enthusiast craving immersive experiences, or simply seeking relaxation in exotic destinations, the agency has got you covered.
Chiky Travels is led by Ankit Bajaj & Akash Bajaj, seasoned travel industry experts with a passion for crafting extraordinary journeys. With Ankit Bajaj's extensive knowledge, & Akash Bajaj's creativity, and attention to detail, the agency has gained a reputation for delivering personalized and unparalleled travel experiences. Their unwavering commitment to customer satisfaction and dedication to exploring the world's wonders have made Chiky Travels a trusted name in the industry.
Chiky Travels offers Ticket, Hotel, Holiday Packages, Passport Services, Cruise & Ship visas Insurance & other travel-related services. With the world gradually opening up and travel restrictions easing, it's the perfect time to start planning your next great escape. Chiky Travles understands that every traveler is unique, and our team of experienced travel experts is dedicated to creating tailor-made itineraries that suit your preferences and interests. We take pride in curating exceptional trips that leave a lasting impact, enabling you to explore the world with confidence and ease.
Unparalleled Expertise: At Chiky Travels, we boast a wealth of expertise and an extensive network of global partners, ensuring that you receive nothing less than the highest quality service. Our team members are avid travelers themselves, having personally experienced the destinations we offer, allowing us to provide valuable insights and recommendations. Whether you're seeking a luxurious beach getaway, an off-the-beaten-path adventure, or a cultural immersion in a bustling city, our experts are equipped with the knowledge to design your ideal vacation.
Tailor-Made Experiences: We understand that no two travelers are the same, and that's why we prioritize customization. Our travel specialists take the time to understand your preferences, interests, and budget, crafting personalized itineraries that cater to your specific needs. From selecting the finest accommodations to arranging exclusive tours and activities, we strive to create seamless and unforgettable experiences. Whether you're traveling solo, with a loved one, or in a group, we ensure that every detail is meticulously planned for your utmost satisfaction.
Safety and Peace of Mind: Your safety and well-being are our top priorities. In light of the ongoing global situation, Chiky Travels maintains a strong commitment to providing safe travel experiences. We closely monitor travel advisories, partner with trusted local suppliers, and prioritize properties and destinations that adhere to stringent health and safety protocols. Rest assured; we've got your back, allowing you to relax and fully immerse yourself in the joys of travel.
Unforgettable Adventures Await: Imagine strolling along pristine white beaches, trekking through lush rainforests, discovering ancient ruins, indulging in culinary delights, and engaging with diverse cultures. WithChiky Travels, these extraordinary adventures are within reach. Let us guide you to iconic landmarks, hidden gems, and off-the-beaten-path wonders, creating memories that will last a lifetime.
Book Your Next Adventure Today: Visit our Corporate Office at Agrawal Complex, 6A/B, First Floor, Agrawal Complex B/S Municipal Market, Chimanlal Girdharlal Rd, Mithakhali, Navrangpura, Ahmedabad, Gujarat 380009, Visit our website chikytravels.com or call +91 8000312111 to start planning your next unforgettable journey. Our travel experts are eagerly awaiting your call, ready to turn your travel dreams into a reality. Join us and embark on a thrilling, culturally enriching, and awe-inspiring adventure with Chiky Travels. The world is waiting, and we're here to make your travel dreams come true.
Remember "Chiky Travels" when it's your "Time To Travel"
If you have any objection to this press release content, kindly contact pr.error.rectification[at]gmail.com to notify us. We will respond and rectify the situation in the next 24 hours.