Every startup should have only one leader, not multiple leaders," says Narayana Murthy at the Moneycontrol Startup Conclave 2023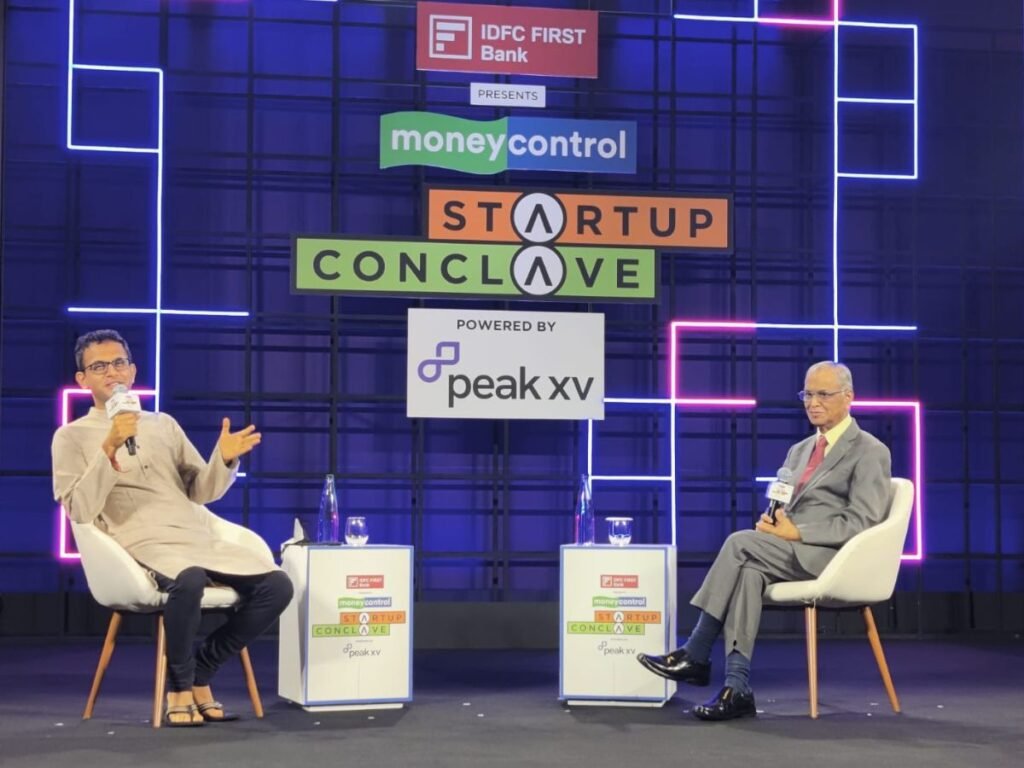 Rohan Murthy interviews dad NR Narayana Murthy on starting up, sacrifices, values, and more.
Bengaluru (Karnataka) [India], July 10: Narayana Murthy, Founder of Infosys, took the floor at Moneycontrol Startup Conclave 2023 to speak in a candid conversation with his son, Rohan Murthy, Founder of Soroco.
The IIT alumnus was asked why he chose to become an entrepreneur. He answered, "Because I believe the only way society can remove its poverty is through the power of entrepreneurship, creating jobs, translating ideas into jobs, translating ideas into wealth, and enhancing taxes paid to the government."
When asked to list key attributes of entrepreneurs, he highlighted, "They must have the power of imagination. They must be comfortable with innovation, with doing something unusual. Passion fuels your energy, enthusiasm, and ability to achieve the target, and for this, the leader must have an articulated value system."
The next key step for any nascent business is hiring talent. He recommended, "My focus was on competence. Without that, nothing will happen. The second is the value system. In the beginning, everybody has to trust everybody else implicitly. The only thing the employees have are your words. For this, you must be authentic. When employees work as a team, in unison, there is a high probability of people buying into your vision, and that vision must have something in it for everybody."
On devising leadership and organizational structure, he suggests, "Every startup company must have only one leader. There cannot be two or three leaders. Just one leader." He adds, "Once the managerial phase comes in, you invite managers to create systems and processes, establish protocols, invite independent directors, and have a good governance mechanism."
Crippling uncertainty and self-doubt are common among all startup founders. Addressing pathways to tackle that, Mr. Narayana Murthy shares how he felt when his company went public, "When we went public, we were worried about whether we would do well or not." For navigating times when things get tough at the office and at home, he suggested, "You should not panic. During uncertain times, I would crack jokes in the office and talk to them about how other people have gone through such times as well, and how God is with us. Sometimes, logic doesn't suffice. There are moments when one must transcend logic, embrace faith, and believe in God."
Reminiscing about his roots, he elaborated on how selecting a career pathway wasn't as parent-regulated back then as it is today. He said, "Back then, they didn't ask us 'what are you going to do.' Somehow, that environment gave us much freedom. Acknowledging his wife's pivotal role during the early stages of building his business, Mr. Murthy expressed his gratitude for Mrs. Sudha Murthy, present at the Moneycontrol Startup Conclave 2023. He shares, "My wife stood by me when my colleagues were unsupportive."
The session also included Mrs. Murthy sharing her perspective as the first angel investor in Murthy's life. She shares the anecdote, "Living with a successful man can be extremely challenging. They are not ordinary individuals; they possess eccentricities and lack conventional logic at home, reserving it solely for the office. These accomplished individuals often have sky-high expectations, requiring their partners to juggle multiple roles simultaneously." She adds, "They expect their partners to be a wife, secretary, finance manager, nanny, advisor, and assume various other responsibilities. Failing in any one of these roles can have a profound negative impact on their well-being."
A number of budding startups present at the Moneycontrol Startup Conclave 2023 sought Murthy's perspective on the principle of good governance, to which he suggested, "Put the interest of the community ahead of your personal interest, in the short and mid-run, and you will emerge a winner in the long term. It is a philosophy that you either have or you don't.
If you have any objection to this press release content, kindly contact pr.error.rectification@gmail.com to notify us. We will respond and rectify the situation in the next 24 hours.