FoodTech Startup, R'VFC, Reaches $5 Million in Valuation, Receives Endorsement by Nitin Gadkari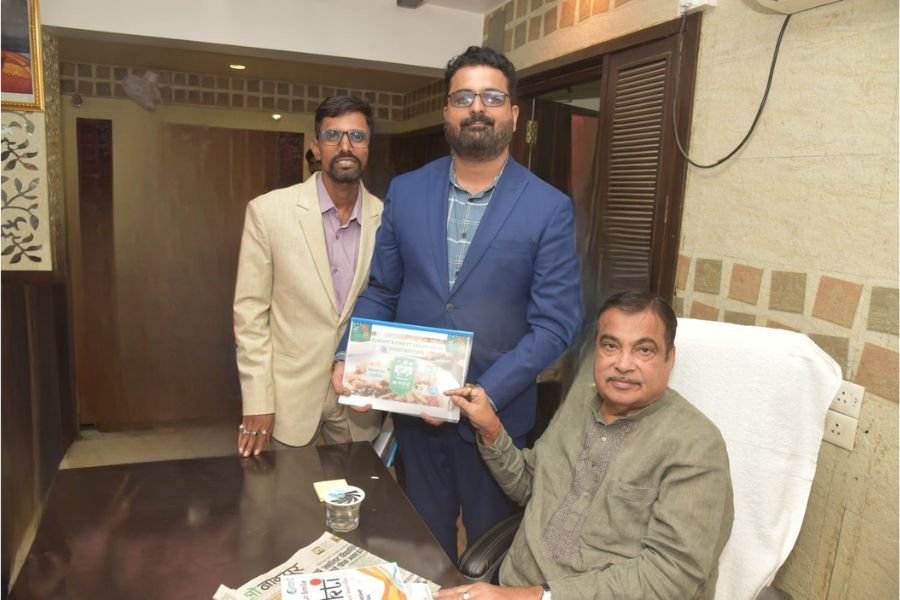 Bangalore (Karnataka) [India], July 21: Rohan Saraf, a visionary entrepreneur with an impressive track record in the food industry, has achieved yet another remarkable feat with his second venture, R'VFC (Rohan's Vegan Food Club). The innovative vegan meal delivery platform has already garnered a staggering valuation of $5 million within 3 months of its launch in Bengaluru, firmly establishing itself as a trailblazer in the plant-based cuisine market.
R'VFC, an app-based platform, took a unique approach to vegan meal delivery, offering a diverse and delectable menu that caters to both vegans and non-vegans. With dishes ranging from vegan alfredo pasta to vegan Valencian paella, the focus on using fresh, whole-food ingredients ensures that each meal is a delightful culinary experience packed with nutrients and flavor.
The affordability of R'VFC's offerings sets it apart from its competitors, with meals starting at just ₹99* during a limited-time promotion. This accessible pricing makes it an ideal option for health-conscious individuals seeking delicious, plant-based meals on a budget. The platform also offers a subscription service, enabling customers to enjoy even more savings through weekly or monthly meal plans.
In its pursuit of further growth and expansion, R'VFC has initiated talks with investors to secure a $750,000 preseed round. This investment will bolster the company's efforts to enhance its platform, expand its reach, and further solidify its position as a leader in the plant-based food delivery industry.
Beyond its financial achievements, R'VFC has also earned acclaim for its commitment to sustainability and eco-friendly practices. Rohan and his team were endorsed by Mr. Nitin Gadkari, the esteemed Minister of Transportation and Highways, Government of India, for their efforts in reducing carbon emissions and fostering a cleaner, greener future for urban logistics.
Minister Nitin Gadkari, renowned for his commitment to sustainable development and environmental conservation, has been an incredible contributor to R'VFC's mission. With Mr. Gadkari's guidance, R'VFC now aims to further elevate its sustainability efforts by exploring the integration of ethanol and hydrogen-powered delivery vehicles into its fleet. This ambitious step reinforces R'VFC's position as a frontrunner in promoting environmentally-friendly practices in the food delivery industry.
Expressing his appreciation for R'VFC's efforts in democratizing healthy vegan meals, Minister Nitin Gadkari stated, "R'VFC's commitment to providing affordable and nutritious vegan meals aligns perfectly with our vision for a greener and cleaner future. Their innovative approach to cooking and packaging has already made a substantial impact. I am proud to support Rohan Saraf and his exceptional team at Rohan's Vegan Food Club as they pave the way for a more sustainable and compassionate food industry."
Mr. Nitin Gadkari is the Honorable Minister for Road Transport and Highways in the Government of India. Known for his proactive approach to sustainable development, Minister Gadkari has been a driving force in promoting environmentally friendly practices across various sectors. His incredible contributions include guiding R'VFC in transitioning to ethanol-powered fleets and his vision for future developments such as electric highways and hydrogen-powered fleets, further emphasizing his commitment to a greener and cleaner future.
Rohan Saraf is a dynamic entrepreneur with a passion for promoting sustainable and healthy living through vegan cuisine. With a successful history of founding two vegan meal delivery startups across continents, he has emerged as a leading force in the global food industry. Rohan's commitment to innovation and his dedication to making a positive impact has garnered him widespread recognition and respect.
Rohan Saraf's journey as an entrepreneur began with his first successful vegan meal delivery startup, Vegan Food Club in Valencia, Spain, which expanded its operations across two continents, leaving a significant impact on the food scene. The success of his initial venture inspired him to embark on a new venture, R'VFC, with the mission of revolutionizing the way people perceive and consume vegan food.
About Rohan's Vegan Food Club (R'VFC): Rohan's Vegan Food Club, also known as R'VFC, is an extraordinary organic and healthy vegan food startup that aims to provide delicious and sustainable plant-based cuisine. With their innovative Patent Pending R'VFC technique of cooking and packaging, R'VFC offers affordable vegan meals starting from ₹99, making healthy eating accessible to all. They also provide tailor-made meal plans for gourmet lovers, Jain's, diabetics, and weight and health-conscious customers.
For media inquiries, please contact:
R'VFC Marketing
rvfcmarketing@gmail.com
9108881617
If you have any objection to this press release content, kindly contact pr.error.rectification[at]gmail.com to notify us. We will respond and rectify the situation in the next 24 hours.