Father-Daughter Duo Dhimant & Kavya Vyas to Unveil Captivating Art Exhibition that Transcends Boundaries and Celebrates Family Bonds
Renowned artist Dhimant Vyas and his emerging artist daughter, Kavya Vyas, invite you to embark on a visual journey that promises to be a spectacular blend of creativity, emotion, and generational connection
Experience the magic of family and art combined in "The Father-Daughter Duo Painting Show," featuring renowned artist Dhimant Vyas and his talented daughter, Kavya. Open from August 26-31 in Bangalore, this unique exhibition promises a captivating array of styles and emotions.
Bengaluru (Karnataka) [India], August 25: In an art world that often focuses on individual brilliance, a unique exhibition is set to change the narrative by celebrating the magical bond between a father and daughter. Renowned artist Dhimant Vyas and his emerging artist daughter, Kavya Vyas, invite you to embark on a visual journey that promises to be a spectacular blend of creativity, emotion, and generational connection. The Father-Daughter Duo Painting Show will be open from August 26 to August 31, 2023, at Karnataka Chitrakala Parishath, Art Gallery #4, in Bangalore.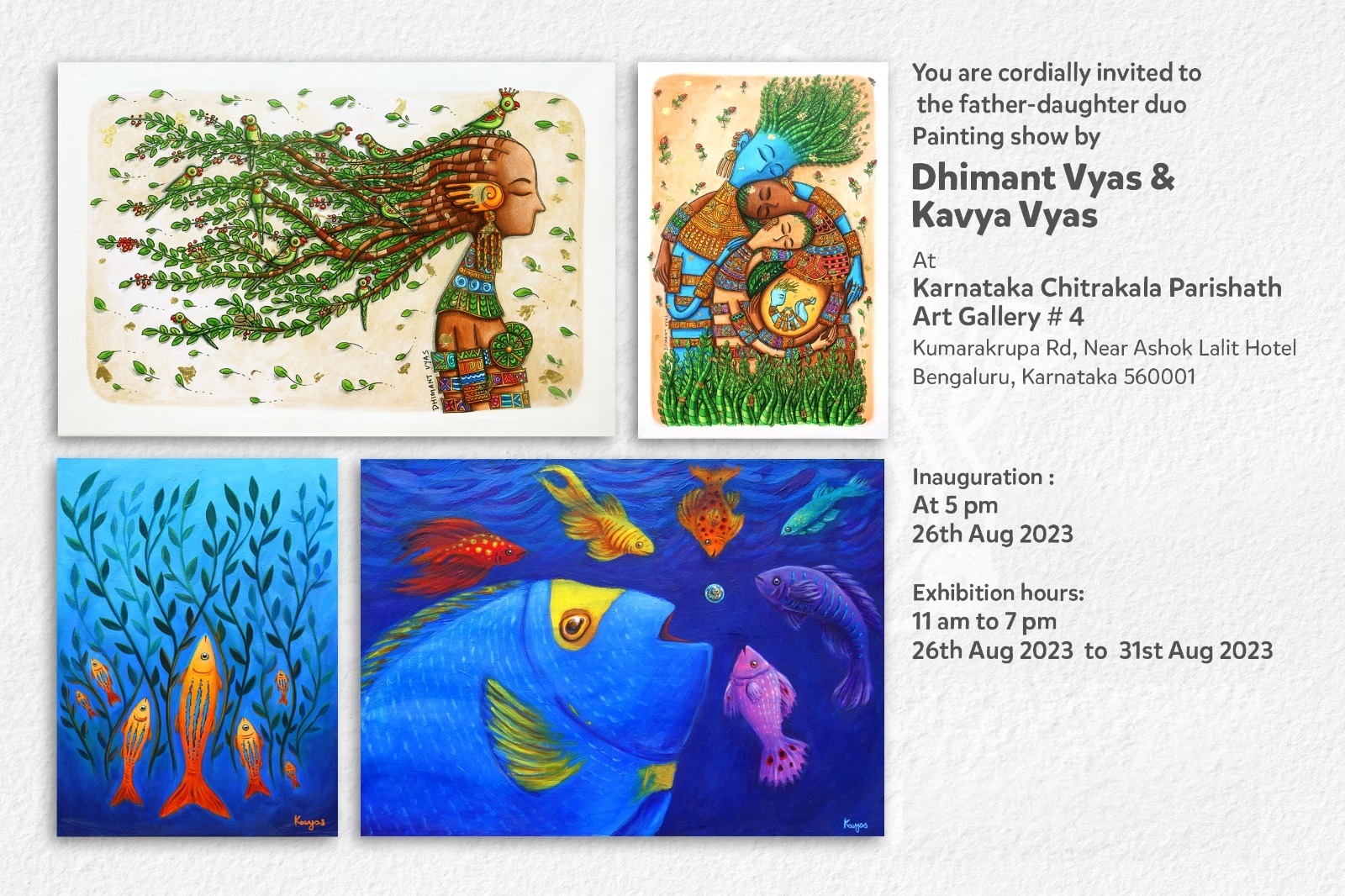 Bridging Generational Gaps Through Art
Dhimant Vyas, a seasoned artist known for his evocative and thought-provoking works, pairs with his talented daughter, Kavya Vyas, to showcase the deep connection between family and artistic expression. "For me, art has always been a way to communicate emotions, ideas, and stories that go beyond words," says Dhimant. "Collaborating with my daughter has been a profound experience that has allowed us to bridge the generational gap and find a common language through our art."
A Rich Tapestry of Creativity
The exhibition promises to captivate visitors with a diverse collection of artworks that span various styles, themes, and emotions. From Dhimant's intricate compositions that stir the soul to Kavya's vibrant and contemporary creations, the exhibit offers a rich tapestry of creativity. "Working alongside my father has been a dream come true," notes Kavya. "His guidance and wisdom have ignited my artistic journey, and together we've explored themes of identity, growth, and the beauty of connections."
A Lifetime of Achievements
Dhimant Vyas is no stranger to the art and animation world. His portfolio boasts of title animation sequences for critically acclaimed films like 'Taare Zameen Par' and contributions to Oscar award-winning animation studios like Aardman Animations Ltd U.K. A recipient of the 'Ram Mohan Award' for Excellence in the animation industry in 2022, Dhimant's works have been recognized with several national and international awards.
High Praise from Notable Personalities
The father-daughter duo's work has already caught the attention of famous personalities. Three-time Grammy Award Winner Ricky Kej, Bollywood superstars Amitabh Bachchan and Aamir Khan, Director Rakeysh Omprakash Mehra, and Actress Nandita Das are among those who have praised the duo's artistic endeavors.
Mark Your Calendars
The Father-Daughter Duo Painting Show is not just another art event; it's a heartfelt exploration of family bonds through the universal language of art. Mark your calendars for August 26 to August 31, 2023, and prepare to be moved by the artistry and love on display at Karnataka Chitrakala Parishath, Art Gallery # 4, Bangalore.
If you have any objection to this press release content, kindly contact pr.error.rectification[at]gmail.com to notify us. We will respond and rectify the situation in the next 24 hours.