Korea Culture And Tourism Festival 2023: A Celebration Of K-Vibes And Heritage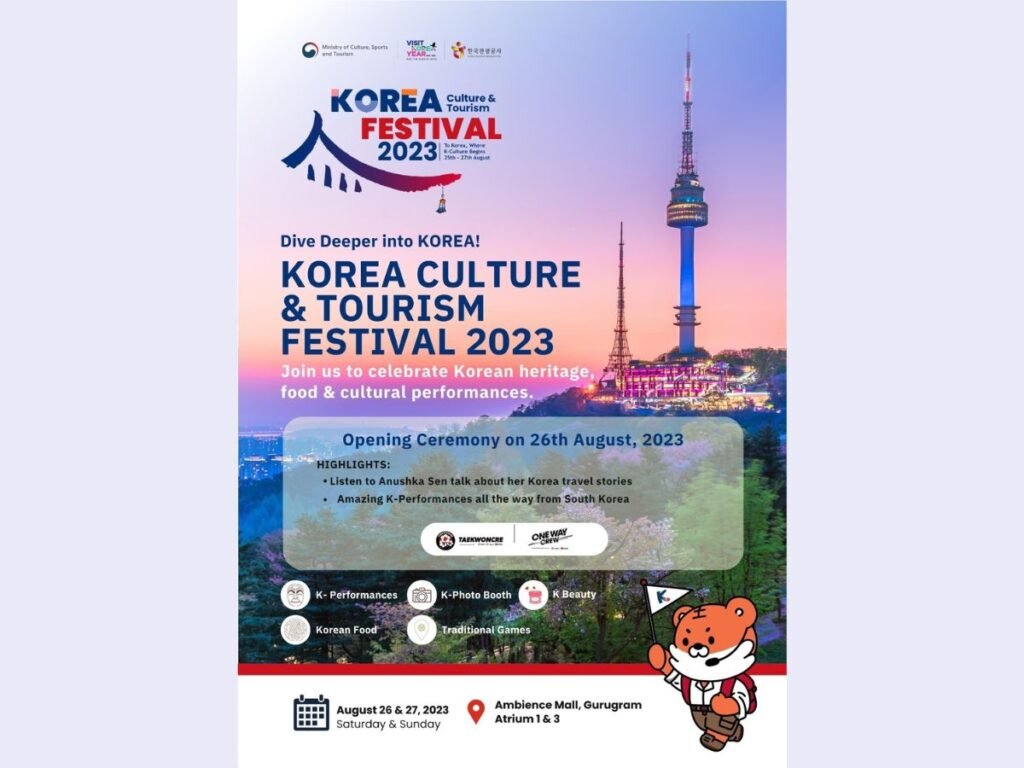 Experience K-Performance, K-Beauty, Korean food and More: August 26th-27th at Ambience Mall, Gurugram, Meet Anushka Sen at the KOREA Culture and Tourism Festival 2023
New Delhi (India), August 25: Get ready to immerse yourself in the vibrant world of Korean culture and tourism at the highly anticipated Korea Culture and Tourism Festival 2023, hosted by the Korea Tourism Organization (KTO). This exciting event is scheduled to take place on the 26th and 27th of August at Ambience Mall, Gurugram, offering an incredible opportunity for attendees to experience the richness of Korean heritage, performances, food, beauty, and traditional games.
The Korea Culture and Tourism Festival 2023 promises an unforgettable weekend where visitors can indulge in a variety of activities that showcase the best of Korea's cultural treasures. This festival is a testament to the deep-rooted connection between India and Korea, amplifying the K-Wave and fostering a greater appreciation for Korea's attractions among the Indian audience.
Event Highlights:
K-Performances: Experience the awe-inspiring talents of South Korea as you witness breathtaking B Boying performances that push the boundaries of movement and creativity. Immerse yourself in the discipline and artistry of Taekwondo demonstrations that showcase both strength and precision.
K-Photo Booth: Capture picture-perfect moments at the event with our specially designed K-Photo Booth. These picturesque settings will provide attendees with the opportunity to create lasting memories while surrounded by the vibrant colors and aesthetics of Korean culture.
K-Beauty Stalls: Discover the secrets of flawless Korean beauty at the Bioface and Innisfree stalls. Explore a wide range of beauty products and treatments that have taken the world by storm, and learn how to achieve the radiant looks that have become synonymous with K-Beauty.
Korean Food: Delight your taste buds with a delectable array of traditional Korean dishes. Enjoy the culinary delights not only from our own stalls but also from renowned names like Lotte and Orion. The Korean Food section will offer a gastronomic journey that reflects the diverse flavors and culinary traditions of Korea.
Traditional Games: Engage in the nostalgia of traditional Korean games like Ddakji, Jegichagi, and Gonggi. These games passed down through generations, bring a touch of history and entertainment to the festival.
Adding to the excitement, Anushka Sen, the Indian Television Actress, Model, and Influencer, will grace the festival as the Honorary Ambassador of Korea Tourism from India. Anushka will share her experience as a brand ambassador, regale attendees with captivating Korea travel stories, and provide insights into her personal journey of exploring Korean culture and attractions.
If you have any objection to this press release content, kindly contact pr.error.rectification@gmail.com to notify us. We will respond and rectify the situation in the next 24 hours.