WeVOIS, a fast-growing waste management startup, has secured USD 4 million in preseries A to expand beyond Rajasthan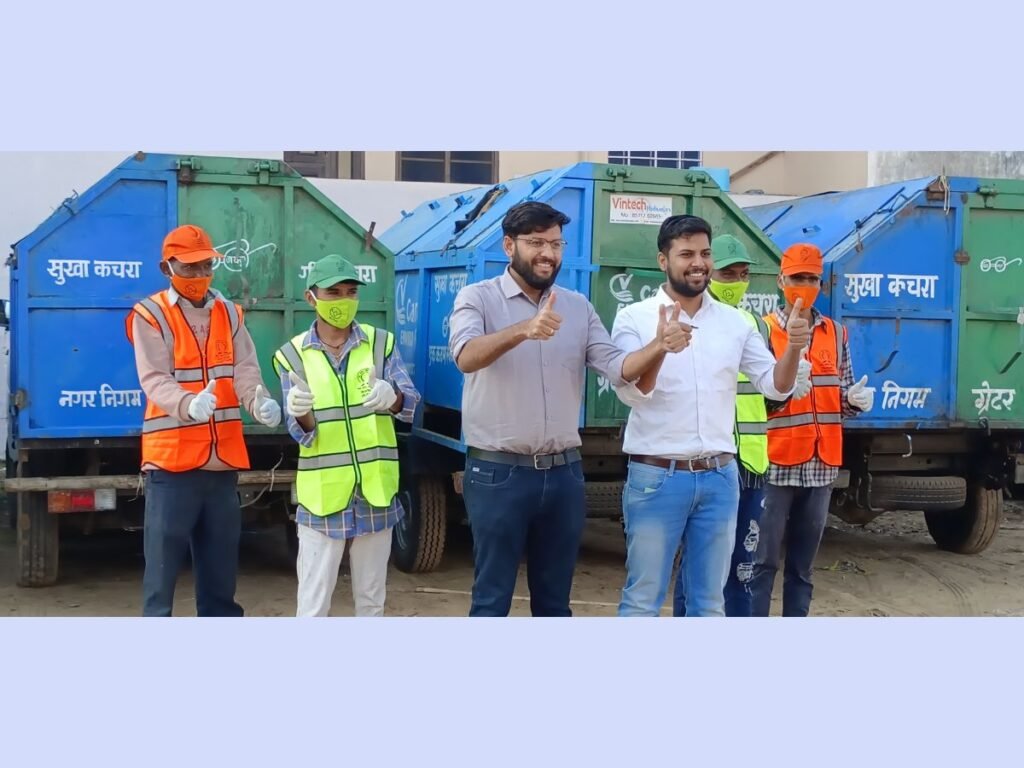 Jaipur (Rajasthan) [India], June 24: Jaipur-based waste management startup WeVOIS has raised a total of $4 million in funding from a combination of equity and debt in its pre-series A round at a $10 million valuation. The funding was led by Innovana Thinklabs Ltd, Upaya Social Ventures, RecurClub, and several prominent angels including Sunil Kumar Singhvi and Rajendra Lora of Freshokartz.
WeVOIS has successfully improved the environment for over 2.5 million people across 18 cities in India, including Jaipur, Dehradun, Sikar, Gwalior and Jaisalmer. Over the past year, WeVOIS has experienced 250% year-on-year growth and a 60% increase in customer acquisition in the last six months with a zero churn rate since its inception.
What sets WeVOIS apart from other startups in the space is its unique approach. In this cash-burning market, WeVOIS has been profitable from day one of its operations. This serves as evidence of the company's unwavering commitment to simultaneously generating a social impact and establishing a scalable business model, with the founders never wavering from this principle. The new funding will enhance recruitment in crucial areas, support tech development, diversification and facilitate expansion across India.
WeVOIS was founded in 2018 by Abhishek Gupta, an alumnus of IIM Ahmedabad, and Abhinav Shekhar Vashistha, a fellow of LIF & Acumen. Motivated by the Swachh Bharat Abhiyan, their mission was to bring about a transformative change in the waste management industry and revolutionize the lives of sanitation workers. They introduced an integrated solution that encompassed a navigation app, training programs, and better wages for the workers. This led to a significant increase in waste collection efficiency, from 40% to an impressive 95%. The platform also offers real-time tracking for waste vehicle fleets, enabling both municipal authorities and citizens to coordinate garbage disposal with scheduled pickups.
Today, the WeVOIS platform has reached a stage where it can be easily replicated in any city across India. Its comprehensive features and functionalities make it a trusted and efficient solution for managing solid waste on a large scale. With its successful track record, WeVOIS is poised to make a significant impact in improving waste management practices nationwide.
In India, poor waste management is a major issue, as it causes environmental pollution and threatens public health. Each year, the country generates nearly 62 million metric
tons of waste, but only 40 million metric tons (or 70%) are collected. This lack of proper waste management can seriously affect the population and the environment.
Abhishek, the co-founder & CTO said, "WeVOIS has emerged as the most preferred choice by the municipalities in a recent nationwide survey conducted by Ministry of Housing and Urban Affairs regarding leveraging the best practices in waste management.We have been receiving highly increased demand from municipalities and other waste management stakeholder, the capital raised by us will help us in meeting this demand."
Abhinav, the co-founder & CTO added, "Despite significant progress made by Indian companies in recycling segregated waste, a major challenge persists with 80% of the waste remaining unsegregated and ending up in landfills. A substantial portion of this
waste originates from municipalities. We are leveraging our tech platform to bring transparency to the entire waste management supply chain, enabling us to serve as a reliable supplier for Indian recyclers. Our goal is to make municipal waste recycling financially viable for all stakeholders, reaching towards the goals of swachh bharat mission more sustainably and rapidly thereby contributing to the Swachh Bharat mission in a more sustainable and accelerated manner."
Chandan, the Managing Director of Innovana, expressed his excitement about the waste management sector and the potential it holds for creating a positive social impact. He noted that WeVOIS caught their attention due to its profitability and data-driven approach in this unorganized sector. He also mentioned that the strong founders, coupled with their tech-first approach and data-driven decision-making, position WeVOIS as a promising candidate to become India's first Waste Management Unicorn.
"WeVois is bringing better pay and improved technology to sanitation workers," said Upaya CEO Kate Cochran. "Continuing to formalize the waste management sector in India will yield massive environmental and climate payoffs, but it can also create reliable, safe jobs at scale in every state in the country."
Amar A Ummat, founding partner at Recur Club, strongly believes in WeVOIS's vision and their tech-first approach to waste management. "We are so excited to have been a part of WeVOIS's initial journey from being a bootstrapped startup to now raising their equity round. Their pioneering approach to working with the government gave us the confidence us to provide them with a non-dilutive capital line that enabled them to
expand to other cities in Rajasthan and other states. This initial growth ensured they were able to delay dilution to achieve a much higher valuation with strategic investors.
We are excited for what's in store as WeVOIS continues to revolutionize India's waste management sector and are looking forward to a close and mutually enriching partnership."
For more information visit: https://www.wevois.com/ 
If you have any objection to this press release content, kindly contact pr.error.rectification@gmail.com to notify us. We will respond and rectify the situation in the next 24 hours.