CCL Products, the world's largest private label coffee manufacturer, turns into a billion dollar company now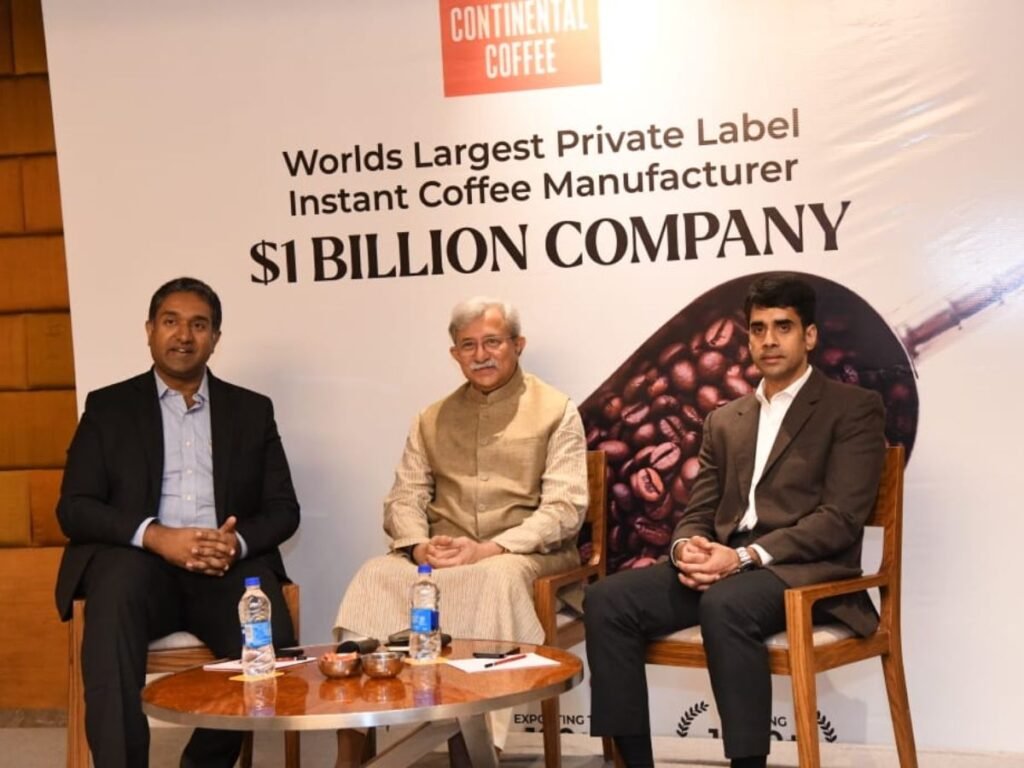 (L to R) CCL Products MD Challa Srishant, Chairman Challa Rajendra Prasad, ED Mohan krishna
– The amazing story of an Indian multinational CCL Products (India) Limited which has grown sip by sip in last 28 years
From 3,000 TPA in 1995 to 55,000 TPA now
4 mfg units across India (2), Vietnam, Switzerland
Rs 400-cr new plant is coming up in Andhra Pradesh
Customers spread across more than 100 countries
3rd largest player in Indian B2C coffee segment
Enters plant-based protein snacks category
More than 1,000 cups of CCL coffee are consumed every second across the globe
Hyderabad (Telangana) [India], June 28: Starting its journey with a small coffee processing unit at Duggirala in Andhra Pradesh and growing steadily thereafter for next 28 years, CCL Products (India) Limited has now become a billion-dollar company in market capitalisation.
Founded in 1995 by Mr. Challa Rajendra Prasad, a passion entrepreneur with far-reaching vision, CCL Products is an Indian multinational in the truest of the term, and also the world's largest private label coffee manufacturer with roots in Andhra Pradesh, India.
Formerly Continental Coffee Limited, CCL initially focused on coffee exports and contract manufacturing. Driven by his passion for coffee, Mr. Prasad identified the untapped potential of Indian-grown coffee being exported without value addition. To address this, he established an instant coffee plant, adding value by converting green coffee beans into high-quality instant coffee. This visionary initiative not only generated valuable foreign earnings, but also positioned India as a prominent player in the global coffee market.
With an unwavering vision to fortify its position in the coffee market, CCL embarked on an aggressive capacity expansion. From its humble beginnings with a manufacturing setup of 3,000 tonnes per annum (TPA), the company scaled up, reaching a staggering capacity of 55,000 TPA in the last 28 years. CCL today has four manufacturing plants, two in India and one each in Vietnam and Switzerland.
With 'Innovation' at its very core, CCL achieved remarkable success and became the preferred supplier for major clients worldwide. With the advantage of large-scale production and an extensive marketing network, CCL has become a powerful player in the global coffee industry with B2B customer base across more than 100 countries. Setting up a freeze-dried unit in 2005 was one such innovative step that was way ahead of its time. The product became such an instant success that a 1,500 TPA FD unit got expanded to 6,000 TPA immediately and another 6,000 TPA got added over a period of time.
Speaking on this occasion, Challa Rajendra Prasad, Founder and Chairman, CCL Products India Ltd, said: "30 years ago when I saw that Indian coffee beans were being exported as raw materials, I thought why shouldn't we do the value addition in our own country and then export the finished products? This way, our country will earn more foreign exchange and, in the process, generate more employment as well. With this objective, I started Continental Coffee Ltd. and set up our first factory at Duggirala. With the help of our marketing partners across the world, we were able to focus on creating customised products for each customer across the world. As a result, today we are the largest private label coffee manufacturer in the world! It is a proud moment for India and Team CCL Products".
B2C foray in India, beyond : Mr. Challa Srishant, Managing Director, CCL Products India Ltd, said: "Building on the strong foundation that our Chairman has laid, CCL has grown by focusing on creating innovative products like Functional Coffees, Cold Brew Instant Coffees, Microground infused Coffees, Specialty instant coffees and so on. We have created a library of more than 1,000 unique blends of coffee for our customers over the years. This base of products has given us the confidence to launch our own brands in the domestic market and create a sustainable B2C vertical."
It is quite rare to see such a phenomenon wherein a B2B company has been able to build a strong B2C vertical as well. CCL focused on creating coffee blends specifically tailored to the tastes and preferences of Indian consumers. In 2016, the company took a bold step forward by launching 'Continental Coffee'. Today, their multitude of offerings range across Instant Coffee, Freeze Dried, Roast & Ground and Premix.
Throughout this transition, CCL made significant investments in various areas such as supply chain management, packaging, sales, and marketing teams. Additionally, the coffee major established a strong network of distributors and retailers to establish and reinforce their presence in the B2C market segment. In a short period of time, in a market dominated by two significant players, Continental Coffee stood at the No.3 position in the Indian market.
In its endeavor to further strengthen its B2C segment globally, CCL acquired 6 coffee brands from Sweden-based coffee roasters Löfbergs Group in June 2023. This acquisition is part of CCL's strategy to strengthen their B2C business and accelerate growth globally giving them access to major supermarkets in the UK – Europe's largest instant coffee market.
Turning into an FMCG company
Going forward, CCL will pursue its dream goal of becoming an FMCG company with a basket of brands. With this vision in mind, CCL almost did something unthinkable and entered plant-based protein snacks category. It entered this category with the brand Greenbird under which it launched 100% vegetarian products like 'Chicken like nuggets', 'chicken like sausages', 'chicken like kababs' and 'keema'. The category, though a niche segment now, has immense growth potential in future.
With capacity expansion for coffee, strengthening its own brands, acquiring other brands and entering into newer categories, CCL is poised for exciting times ahead.
Rs 400-cr new plant in AP
CCL Products (India) Limited is setting up new manufacturing plant at Continental Coffee Park in Kuvvakolli village in Tirupati district in Andhra Pradesh, with an investment of Rs 400 crore. On last Thursday, Andhra Pradesh Chief Minister YS Jagan Mohan Reddy laid foundation for the new plant which will generate more than 100 direct jobs. Coming up in 22 acres, the plant, with an annual capacity of 16,000 metric tonnes, will manufacture spray dried instant coffee. The production at the new plant will start in Q4 of FY24.
About Continental Coffee:
Continental Coffee (CCL Products India Ltd.) is a leading Indian coffee company in the global coffee market, successfully operating businesses in Coffee Exports, Private Label Manufacturing, and Continental Coffee branded coffees. Established in 1995 on a modest scale with just one coffee blend, one factory in Duggirala, Andhra Pradesh, and exporting to one country, CCL has grown to become a leader in the industry globally offering more than 1000 finest quality coffee blends, manufactured across four state-of-the-art facilities (India, Vietnam & Switzerland) to customers across 100 countries. CCL coffee is customized to suit different palates and cater to the diverse needs of customers around the world leading to them becoming manufacturers for top private label brands in India and globally. They are the largest instant coffee manufacturer in India and one of the largest instant coffee manufacturers in the world. More than 1000 cups of CCL coffee are consumed every second across the globe.
If you have any objection to this press release content, kindly contact pr.error.rectification@gmail.com to notify us. We will respond and rectify the situation in the next 24 hours.