Andela Sriramulu Yadav Honors Doctors on 10th Day of Gadapa Gadapaku BJP Bharosha Yatra Celebrating Doctors' Day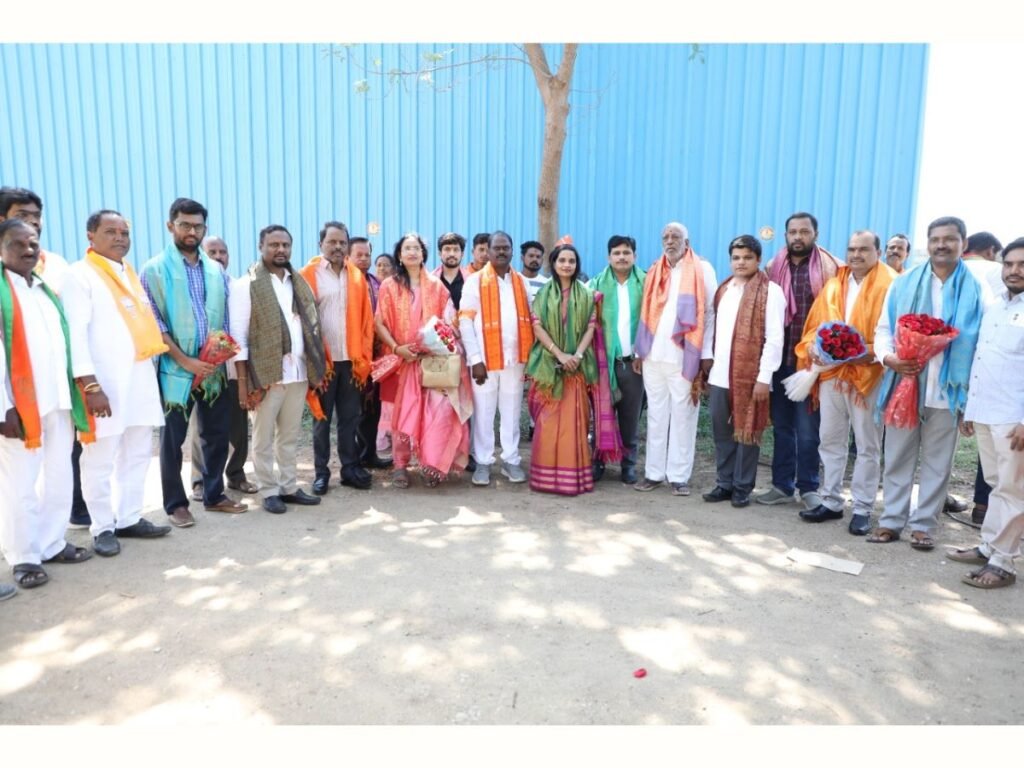 Andela Sriramulu Yadav Honors Doctors on 10th Day of Gadapa Gadapaku BJP Bharosha Yatra Celebrating Doctors' Day
Maheshwaram (Telangana) [India], July 4: Andela Sriramulu Yadav, State Executive Member of the BJP Party and Incharge of Maheshwaram, marked the 10th day of his ambitious "Gadapa Gadapaku BJP Bharosha Yatra" by paying tribute to the dedicated doctors serving in the Maheshwaram constituency. This special event, coinciding with Doctors' Day, showcased Yadav's unwavering commitment to healthcare and the welfare of the community.
The Gadapa Gadapaku BJP Bharosha Yatra, launched by Andela Sriramulu Yadav, serves as a platform to engage with the people, educate them about various BJP schemes and initiatives, and address their concerns. As Yadav embarked on the 10th day of this Padhayatra, he took the opportunity to honor the brave doctors of Maheshwaram who have been working relentlessly on the frontlines, especially during the challenging times of the COVID-19 pandemic.
Doctors' Day holds great significance as it allows us to express our heartfelt appreciation for the selfless service rendered by medical professionals. Andela Sriramulu Yadav, recognizing the immense contributions made by the doctors of Maheshwaram, felicitated them during the yatra, acknowledging their exceptional dedication and sacrifices for the well-being of the community.
Addressing the gathering, Yadav emphasized the crucial role played by doctors in safeguarding public health and acknowledged their unwavering commitment, particularly during the COVID-19 crisis. He lauded them as frontline warriors who have fearlessly fought against the pandemic, risking their own lives to save others. By honoring the doctors, Yadav aimed to convey the deep gratitude and respect of the entire community.
The 10th day of the Gadapa Gadapaku BJP Bharosha Yatra witnessed an outpouring of support and appreciation for the medical fraternity from the attendees. The doctors expressed their gratitude for the recognition and were motivated by the encouragement received from Yadav and the community. This celebration not only honored the doctors but also strengthened the bond between the medical professionals and the political leadership, fostering a collaborative approach in addressing healthcare challenges in the Maheshwaram constituency.
Andela Sriramulu Yadav's commitment to honoring doctors on the 10th day of his Padhayatra demonstrates his deep appreciation for their invaluable contributions to society. The Gadapa Gadapaku BJP Bharosha Yatra serves as a testament to Yadav's dedication to the welfare of the people, as he engages directly with the community, educates them about BJP schemes, and collects their concerns for effective governance.
As the Gadapa Gadapaku BJP Bharosha Yatra continues its journey, Andela Sriramulu Yadav remains resolute in his mission to empower communities, foster open dialogue, and work towards the betterment of Maheshwaram. The yatra serves as a powerful platform to bridge the gap between the political leadership and the people, ensuring that their voices are heard and their issues are addressed.
If you have any objection to this press release content, kindly contact pr.error.rectification@gmail.com to notify us. We will respond and rectify the situation in the next 24 hours.