Wittee: Revolutionizing Fashion with Unique and Stylish T-Shirts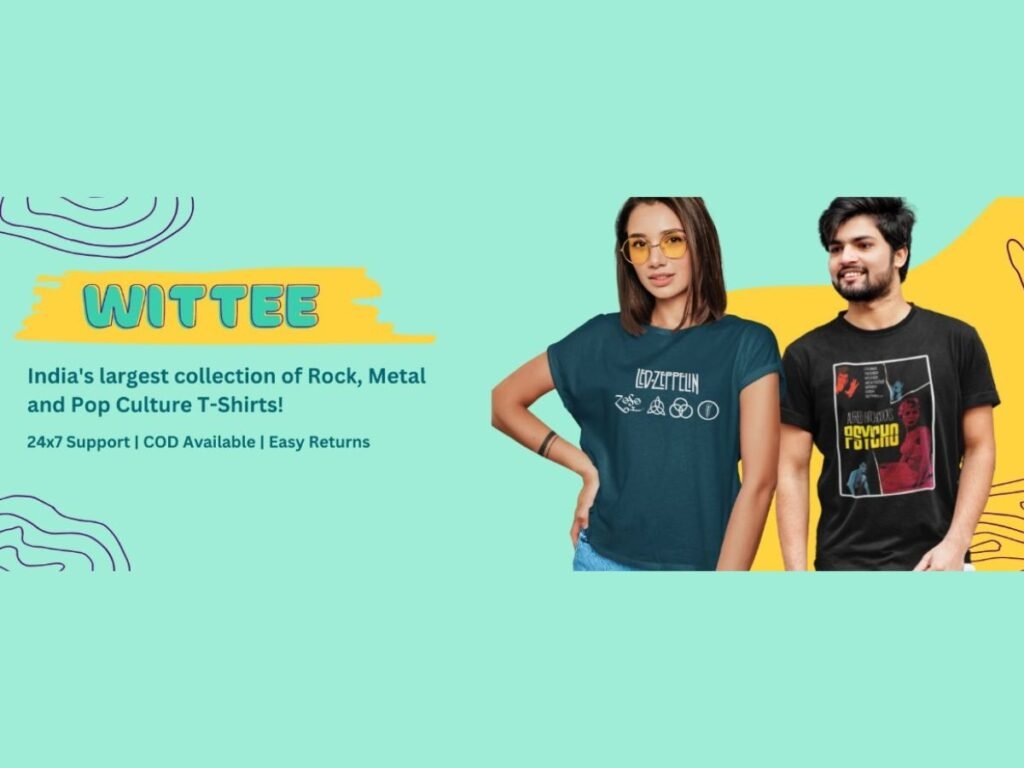 New Delhi (India), July 18: Wittee, a leading fashion brand renowned for its unique and stylish t-shirts, is making waves in the fashion industry with its innovative designs and commitment to quality. With a diverse range of collections that cater to various interests, Wittee is revolutionizing the way people express themselves through clothing.
Wittee's philosophy centres around the belief that fashion is an art form that should empower individuals to showcase their personalities and passions. Through their extensive lineup of t-shirts, Wittee offers a canvas for self-expression, allowing wearers to make a statement without saying a word.
One of the key aspects that sets Wittee apart is its dedication to providing exceptional quality. Each t-shirt is carefully crafted using premium materials, ensuring superior comfort, durability, and style. The brand's attention to detail, from stitching to printing, is a testament to its commitment to delivering a remarkable product to its valued customers.
Wittee's collections are as diverse as the individuals who wear them. From graphic prints featuring iconic rock bands and movie references to witty slogans and artistic designs, Wittee caters to a wide range of interests and preferences. Soon to come is an exclusive collection of anime t-shirts, adding another exciting dimension to their lineup.
The brand's dedication to customer satisfaction is reflected in its outstanding service. Wittee takes pride in being responsive and attentive to their customer's needs, ensuring a seamless shopping experience from start to finish. Their hassle-free exchange and refund policies further demonstrate their commitment to putting their customers first.
"We believe T-Shirts are more than just a piece of cloth, it's a canvas to express yourself," says Akash, owner of Wittee. "Fashion is an extension of one's identity, and we want to provide our customers with unique and stylish options that truly reflect who they are."
Wittee's success can be attributed to its strong online presence and dedicated customer base. Their website offers a user-friendly interface, making it easy for customers to browse and purchase their favourite designs. With a growing community of satisfied customers and a strong following on social media platforms, Wittee continues to make waves in the fashion industry.
As Wittee continues to innovate and expand their product offerings, they remain committed to their core values of authenticity, quality, and customer satisfaction. With their unique and stylish t-shirts, Wittee is empowering individuals to express themselves boldly, one design at a time.
About Wittee:
Wittee is a leading fashion brand specializing in unique and stylish t-shirts. With a wide range of collections, including designs inspired by rock bands, movies, TV shows, pop culture, and more, Wittee offers a platform for self-expression and individuality. Committed to quality and customer satisfaction, Wittee delivers exceptional products that empower individuals to make a statement through fashion. To learn more about Wittee and explore its collections, kindly visit the website https://wittee.in
Instagram – https://instagram.com/wittee.in
If you have any objection to this press release content, kindly contact pr.error.rectification@gmail.com to notify us. We will respond and rectify the situation in the next 24 hours.