Novo Nordisk Education Foundation Launches New Centre of Excellence for Type 1 Diabetes Care in Karnataka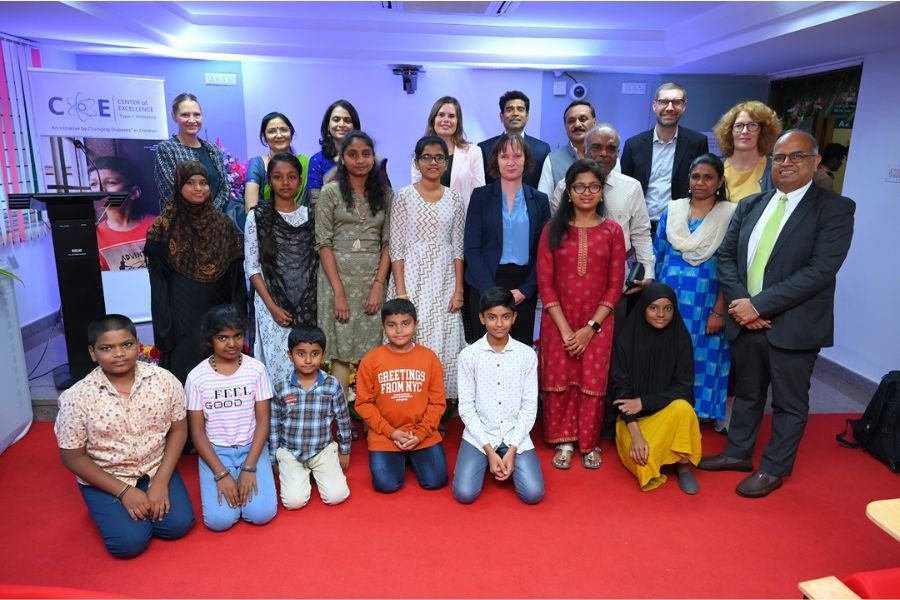 Teams from Novo Nordisk Education Foundation and Indira Gandhi Institute of Child Health unite at the inauguration of the Centre of Excellence for Type 1 Diabetes Care in Bengaluru, Karnataka.
Novo Nordisk Education Foundation partners with Indira Gandhi Institute in Bangalore to launch a new Centre of Excellence for Type 1 diabetes care in Karnataka. The initiative offers holistic healthcare services to underprivileged children and aims to strengthen India's diabetes care ecosystem.
Bengaluru (Karnataka) [India], August 31: In a significant step towards improving diabetes care in India, the Novo Nordisk Education Foundation (NNEF) has inaugurated a new Centre of Excellence (CoE) in collaboration with the Indira Gandhi Institute of Child Health, Bangalore. This public-private partnership marks NNEF's commitment to enhancing Type 1 diabetes (T1D) management for underprivileged children in Karnataka.
A Century of Change
The CoE's inauguration coincides with Novo Nordisk's centennial celebration of "Driving Change" in diabetes care. NNEF, a non-profit organization established by Novo Nordisk India, has been at the forefront of diabetes education and management in India. This latest Centre of Excellence is the seventh of its kind, developed in close partnership with state governments and reputable medical colleges.
Camilla Sylvest, Executive Vice President of Commercial Strategy & Corporate Affairs at Novo Nordisk, visited the new Centre of Excellence. "Novo Nordisk is proud to support children living with Type 1 diabetes across the world," she said. "We hope that this Centre of Excellence will not just provide integrated care to children who need it the most, but also lead to a sustainable model of integrated care for children living with Type 1 diabetes in Karnataka. We look forward to leveraging Novo Nordisk's patient-centric approach to support building capacity and capability for India's healthcare ecosystem."
Meeting the Growing Need
According to a recent study by the Indian Council of Medical Research, India has approximately 101 million people living with diabetes, and another 136 million are in the pre-diabetes stages. Among these, over 8.6 lakh people have T1D, with 2.8 lakh individuals below the age of 20 years.
Vikrant Shrotriya, Managing Trustee of the Novo Nordisk Education Foundation, emphasized the importance of the initiative. "It is critical to increase awareness at the grassroots level in India to help with early diagnosis," he said. "This collaboration aligns with our vision to improve accessibility through capacity and capability building. We remain committed to fostering healthcare excellence and strengthening the diabetes care system in India."
Holistic Healthcare Approach
The new CoE in Bangalore will offer a comprehensive range of services, including consultations with dedicated dieticians, regular health check-ups, diabetes monitoring, and laboratory tests. The aim is to provide a holistic healthcare service that focuses on the well-being of the child as well as the family.
Prof Dr. Sanjay K S, Director of the Indira Gandhi Institute of Child Health, expressed gratitude to NNEF. "We would like the people of Karnataka to know about this special clinic curated to provide quality care for people living with Type 1 diabetes, and benefit from the integrated care available at the institute," he said.
A Sustainable Future
The Centre of Excellence is part of NNEF's strategic approach toward sustainability. These public-private partnerships are dedicated to providing integrated care to children living with T1D. The idea is not just to treat the disease but to create an ecosystem that can be replicated across other states and potentially serve as a model for other non-communicable diseases.
While visiting the Centre of Excellence, the dignitaries toured the health facility and interacted with children receiving care. They shared perspectives on how NNEF's efforts are reshaping diabetes care, promoting healthier lives, and empowering communities.
The inauguration of the new Centre of Excellence is a promising step in the ongoing battle against diabetes in India. With its focus on capacity-building and a holistic approach to care, the center is poised to make a significant impact on the lives of children with Type 1 diabetes and their families. As India grapples with an increasing burden of non-communicable diseases, partnerships like these offer a beacon of hope for sustainable, high-quality healthcare.
If you have any objection to this press release content, kindly contact pr.error.rectification[at]gmail.com to notify us. We will respond and rectify the situation in the next 24 hours.