Dr. Himanshu Trivedi: Dentist, Author, and Dada Saheb Phalke Laureate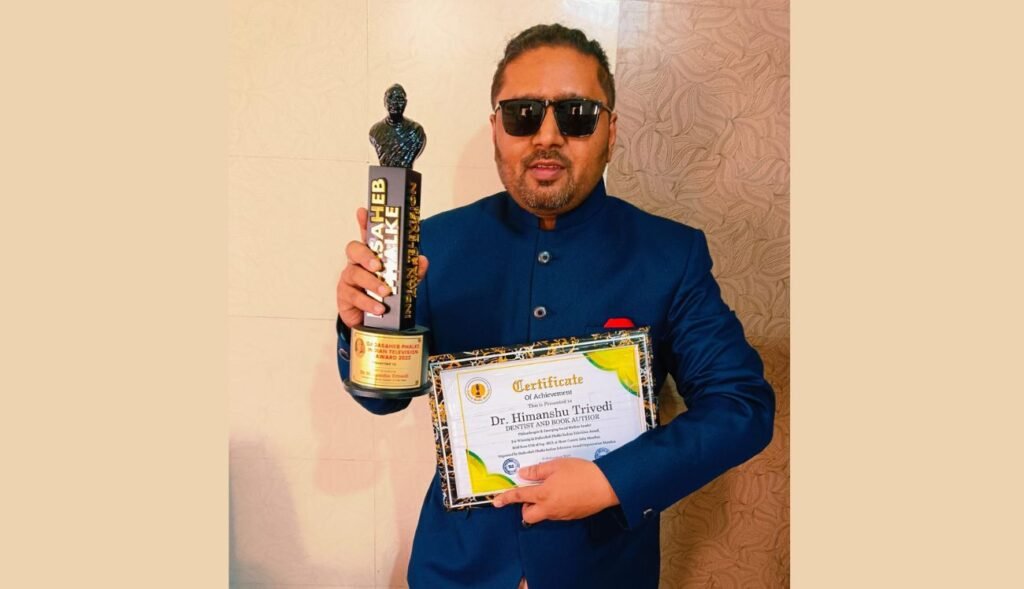 Dr. Himanshu Trivedi: A Hathras Native Shining in Dentistry and Literature
Hathras (Uttar Pradesh) [India], September 30: Dr. Himanshu Trivedi, a distinguished dentist and accomplished book author hailing from Hathras, India, made headlines in 2023 by receiving the prestigious Dada Saheb Phalke Indian Television Award. The award, presented by the iconic Bollywood actress Mandakini, celebrated Dr. Trivedi's contributions to the television, film, and media industries, adding yet another feather to his cap.
The Journey of Dr. Himanshu Trivedi :-
Dr. Himanshu Trivedi's journey to becoming a renowned dentist and a celebrated author is nothing short of inspiring. Born and raised in the quaint town of Hathras, India, his early years were marked by a passion for both dentistry and storytelling. After earning his dental degree, Dr. Trivedi embarked on a fulfilling career, serving the oral health needs of his community.
Simultaneously, his love for literature led him to pen several remarkable books, each exploring unique facets of life and society. His ability to balance these two diverse worlds garnered him respect and admiration from both his patients and literary enthusiasts.
The Dada Saheb Phalke Indian Television Award :-
In 2023, Dr. Himanshu Trivedi's dedication and excellence in his fields were recognized on a grand scale when he received the Dada Saheb Phalke Indian Television Award. This prestigious honor is named after the legendary Dada Saheb Phalke, a pioneer of Indian cinema. The award ceremony, organized by Akhilesh Singh, aimed to acknowledge the significant contributions made by individuals in the television, film, and media sectors.
Dr. Trivedi's Acceptance Speech :-
In his acceptance speech, Dr. Himanshu Trivedi expressed his gratitude for the recognition, emphasizing the importance of interdisciplinary collaboration between healthcare and the arts. He dedicated the award to the people of Hathras, who had been his constant source of inspiration, and encouraged young talents to pursue their dreams relentlessly.
The Significance of the Award :-
Akhilesh Singh, the visionary organizer of the Dada Saheb Phalke Indian Television Award, highlighted the vital role played by individuals like Dr. Trivedi in bridging the gap between television, film, and media. Such recognition not only celebrates their achievements but also encourages others to explore their potential across various domains.
Links:-
https://twitter.com/triVVedi?t=HxKZk5HjNEFgiXi8esT9Sw&s=08
If you have any objection to this press release content, kindly contact pr.error.rectification[at]gmail.com to notify us. We will respond and rectify the situation in the next 24 hours.