A world of excellence, accuracy and elegance… Myron Homes' creative genius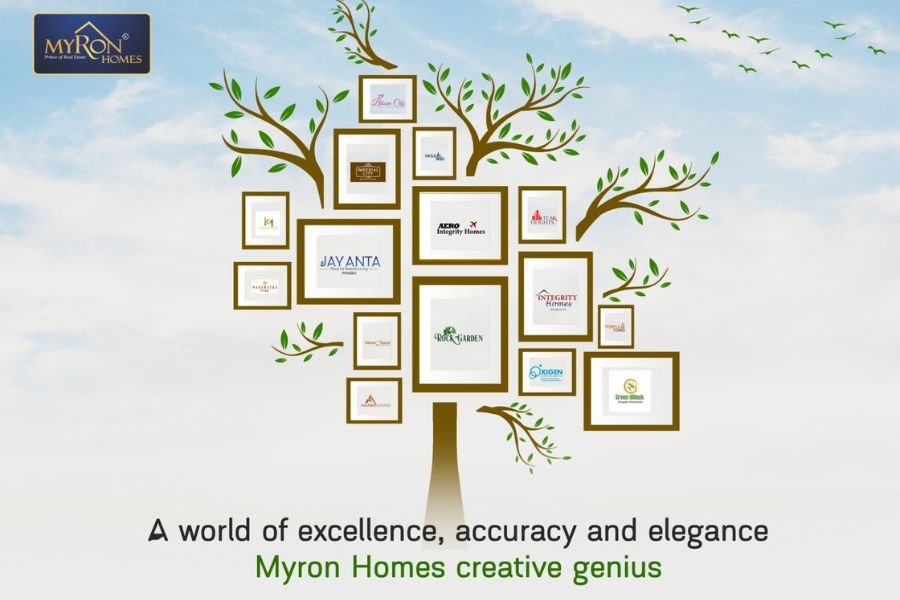 New Delhi (India), June 28: The market of any transaction mainly depends on the credibility and reliability of the institution that carries the entire show. In the latest flourish of the extensive growth in the markets is demanding the display of a high order so as to surge onto the major platform wherein it can evince interest and trigger excitement amongst huger crowds.
In such observation, only few, of late, professionally succeeded in carving out their own niche and attracting a wider span of recognition. The recognition demonstrates its predominance with a championship in serving society from end to end. With competition rising high and high day by day, so-called institutions are forced to face the threat of a challenge to prove their track record in order to stand aloft and shine with an independent glow.
In recent times, one and only Real Estate player that has displayed its monopolistic supremacy in attending to the needs and requirements all along is Myron Homes, beyond any debate or, for that matter, argument. The projects completed by Myron Homes showcase its successful trajectory synonymous with rare quality and championship.
Green Hillock….A passionate ecstasy
Green Hillock is the first of its kind in almost India, with its foremost appearance in the bliss and pleasure of those who always prefer a life of special stylization and exclusive scintillation. It is extensively situated on 35 acres of land and was finally crafted to be lush green Farm Land adjacent to Shankarapally 200 feet road additionally attached to a 6-acre luxury resort. Green Hillock has a special distinction of introducing the concept of Duct Houses inspired and derived from the Central American continent. Through Duct Houses, Myron Homes made it possible in its prestigious project Green Hillock and brought into the ecstasy of the inhabitants of Hyderabad, in and around. It has replenished lives with a smoothening climatic experience in order to facilitate the control of the temperature. Myron Homes created hospitality with a classic touch by providing a number of amenities to its ardent believers.
Aushadha is a masterpiece
By strictures and literature, Aushadha is nothing but an elixir and an all-in-one reliever of all physical and psychological inconveniences. Aushadha is a perfect steward that serves the people on the right path of sound health that, in turn, leads one to a comfortable living. Not just for the sake of business proceeds, Myron Homes always thinks about day-to-day innovations through research of many aspects of healthy living. In view of this, Myron Homes cultivated an idea of establishing a forte to healthy living conditions wherein people live in absolute peace and tranquility.
This is where the project of Aushadha emerged in the most possible perfection to suit the requisite paradigms of the people who prefer to live there. The project of Myron Aushadha is situated in a premium location as the gateway to the so-called Pharma City in 8.5 acres with joyful connectivity to Amazon amid a plethora of residential dwellings. Far from the maddening crowd and the ever-increasing threat of conditional pollution, Aushadha offers all the amenities. To name one, it is already there under the diligent supervision of Myron Homes.
Rock Garden…a symbol of sheer luxury
Rock Garden has been dreamt by Myron Homes to craft and create a luxurious experience in the module of living of the people who look forward to such. Rock Garden specialized in aesthetics and luxury entwined with modern living modes and measures. The name of the project may sound a bit harsh with the resonance of the rock. But it is designed in a flowery style, all with luxuriant greenery around. Rock Garden is established in an area of 27 acres altogether. Being a premium gated community, Rock Garden consists of 155 palatial farm villas. East and west facing with a built-up area of 2 400 sq. ft. for 3 BHK and 1500 sq. ft. for two BHK villas and is proudly calibrated by a clubhouse admeasuring 16000 sq. ft.
For an exclusive experience of the dwellers in the villas, the villas have been executed in an unprecedented fashion of Spanish architecture. The individual landscape for each villa, with six varieties of fruits in the forefront with gardens of vegetables and fruits, rendered the grandeur of Rock Garden so amenably heartening and heart-winning.
Imperial City is the mark of beauteous glory
In the proud chart of Myron Homes, Imperial City is a mark of beauteous glory where nature in open heart dances with all its balconies of tender taste and titillating perfume.  Mainly Imperial City is an establishment of plotting grandeur, all with the promising pride and self-esteem of the owner of every plot, irrespective of size and measurement. Within the near vicinities of a number of salient civic utilities, in tune with the title of the project, Imperial City marks the pomp and majesty of the hovering angles of natural accordance, which bewitches the onlookers, passersby and owners equally. The decades-old Ad caption, Imperial City is the owner's pride and neighbour's envy with a huge canvas of all in nature's eloquence.
Imperial City stretches over 37 acres with plots in the due sizes of 224 to 400 yards with a beguiling look in every yard and inch of a whole lot of land. Situated in the most happening locale called Tukkuguda, Imperial City is the nearest in its distance to ORR (exit 14) and proudly adjacent to Fab City and Electronic City, Hardware Park, Aerospace Sez, Wonderla Amusement Park, Asia's largest Pharma City. The features that speak tomorrow's growth and flourish in all the 360 degrees do demonstrate the owner's height and breadth.
Integrity Homes are a stunning leader
Not to boast of, but to detail its lofty nature in description and definition, Integrity Homes, chiselled by Myron Homes, is the benchmark of excellence in its appearance and elegance in tandem. To own a house is always and every time a luring dream of everybody in society. Living in an own house adds many a feather to the cap of the owner and lifts the profile in society. A cordial hand is a need to help out the dream take shape in reality. That is where Myron Homes play the most crucial role and turn dreams into permanent home. Whatever Myron Homes conceives, all that is in the interest of the people in the society with a view to serving them to the utmost level of their satisfaction, that too, with permanence.
With all the location highlights, integrity Homes threw light on the marvels of how a home should be. With landscaped gardens along the round-the-clock electricity, the prestigious Integrity Homes defines the latest trends and brands to elevate the dream of innumerable hearts into a solid construction. Solar water heating and water bottles in the surveillance of 24-hour security add so much everlasting value to the living standards of modern minds.
Kings Marque dazzles with the light of luxury
Being akin to the eco-friendly arrangement, Kings Marque of Myron Homes is next to city living coupled with enchanting weather all around. A well-designed community offering the most vibrant feel at every inch of it, Kings Marque deserves a huge set of laurels for its unparalleled elegance and pride. Gifting a twin base of eco-friendly atmosphere and ultramodern exuberance that triggers a buoyant mood for those who, on choice, make or choose a life of their own in a private exclusivity, Kings Marque elevates the lifestyle of anybody of a certain taste and tune.
Happening in the most sought-after zone of twin cities, Tukkuguda, Kings Marque in the largest stretch of 60 acres on display, captured all the captivating privacy with a veneer of modern living trends to hone the desirable duality in league with the resonance of nature.
Nakshatra Park is laudable crown
Nakshatra Park is endowed with a cluster of dividends of dear equities of delight and joy and can be described as the crown of Telangana, the most celebrated city in the country. It is decorated with all the natural and articulated ornaments of fashion and dignity, adding much cherished and proverbial propensity to the living conditions thereat. With no comparison around, Nakshatra Park can exhibit to you all the finest of finest features to make you delight upon. It will stand class apart in all the future to come.
If you have any objection to this press release content, kindly contact pr.error.rectification[at]gmail.com to notify us. We will respond and rectify the situation in the next 24 hours.